Có gì đặc biệt tại lễ hội Bia lần đầu tiên được tổ chức tại Dolce Hanoi Golden Lake?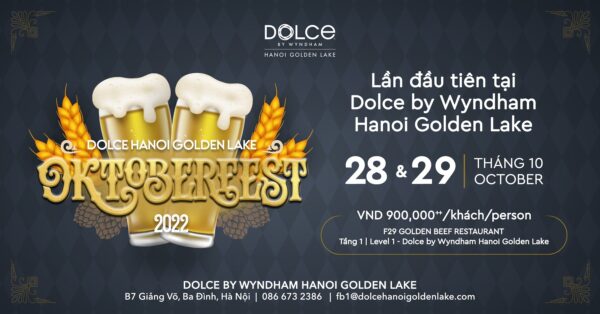 Any country's traditional festivals have its own interesting and unique features. Having the opportunity to share the atmosphere of such festivals without going far is a joy that no one wants to miss. That's why you shouldn't miss the OktoberFest German beer festival held at Dolce by Wyndham Hanoi Golden from October 28 to October 29, 2022!
OktoberFest in Munich is known as one of the largest folk festivals in the world. Where there is beer, there are people who are happy, rejoicing, sometimes creating a tense atmosphere. Perhaps the Germans know better than anyone when they have waited all year to immerse themselves in the music, yeast and famous German delicacies of OktoberFest – cultural events that extend beyond Germany and reach the whole world.
The chance to enjoy unlimited beer for the "connoisseurs"
More than a culinary event, OktoberFest is a bridge between cultures, bringing "beer and bait" believers everywhere. Any Oktoberfest would not be complete without the presence of German-style beers. This is a rare opportunity for diners to enjoy premium and unique beers selected from all over the world.
Immerse yourself in the culinary culture of Germany and have a high-class BBQ party at a 5-star restaurant
With Dolce's Oktoberfest ticket, you'll also be able to enjoy delicious dishes including bold German dishes such as: sausages, fried meat, bagels, traditional casseroles and hams. Besides, there is also a satisfying choice of side dishes and premium BBQ at the luxurious F29 Golden Beef restaurant.
The promotion not only gives diners the opportunity to immerse themselves in the German cultural, but also gives you an opportunity to strengthen exchanges and find opportunities to cooperate with many representatives from different regions.
Time: 18:00 – 22:00 28/10 – 29/10/2022
Venue: 1st floor – Dolce Hanoi Golden Lake Hotel, B7 Giang Vo, Ba Dinh, Hanoi
BUY here