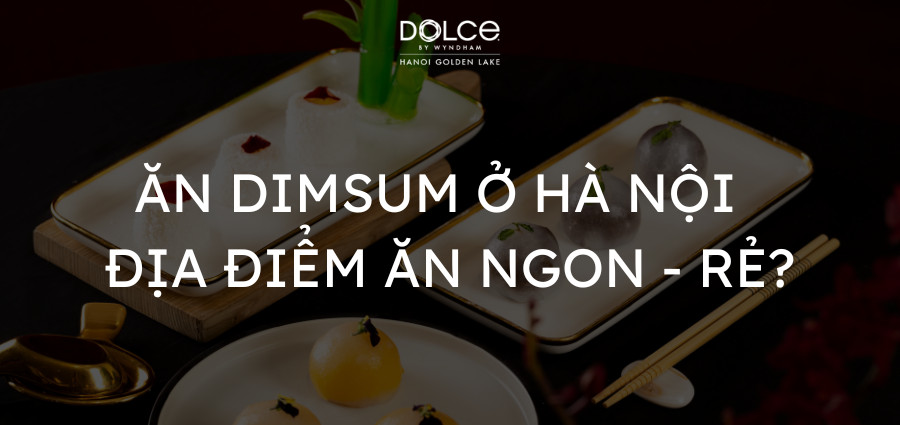 EATING DIMSUM IN HANOI – DELICIOUS RESTAURANT – AFFORDABLE
Breakfast – a famous gift from China is one of the culinary specialties that are circulated around the world. It is undeniable that this is a delicate and attractive dish that makes many people fascinated. So do you know where to eat Dimsum in Hanoi that is both delicious and affordable?
The quintessence of Chinese cuisine
Dimsum is widely known all over the world because it is a dish that carries the whole culinary soul of China. A perfect dim sum part is the crust rolled to harmonize with the filling inside so that when the user opens the lid of the bamboo basket, the shape of the dim sum gradually reveals itself behind the enchanting layer of smoke.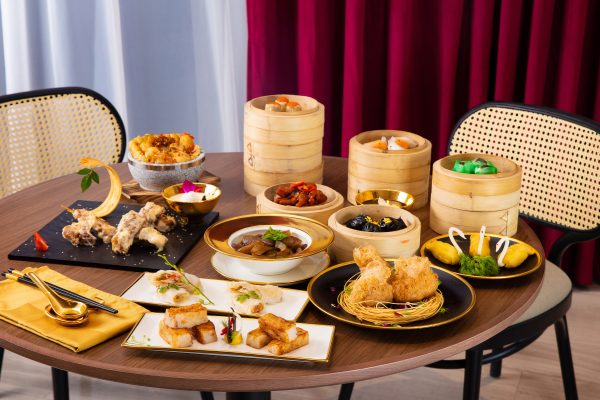 Dimsum's exquisite beauty lies in the interesting combination of sight, taste and even hearing. That is "color – scent – shape – taste". Therefore, Dimsum has a variety of shapes, colors, and ways of processing. Steamed dishes make people enjoy the ethereal and gentle taste when using ingredients such as shrimp and meat to make the inside.
Diners when eating will feel the softness and aroma of the outer shell and the richly seasoned staff hidden inside. Fried dishes bring an impressive crispy taste.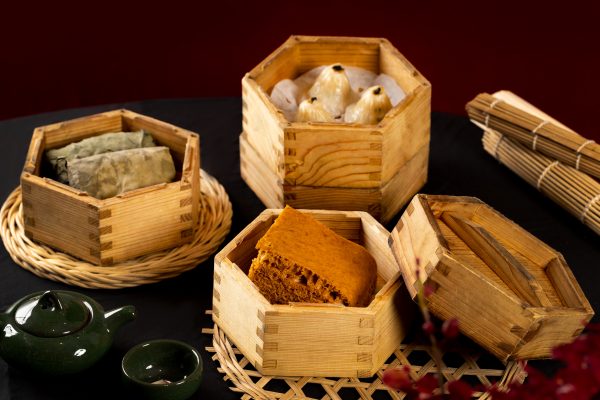 It seems to be very monotonous, but thanks to the creativity and ingenuity of the chefs, Dimsum becomes even more diverse and interesting. Behind the small but equally delicate Dimsum balls are the values ​​and cultural stories of the Chinese people – neighboring Vietnam.
Today, the popularity of Dimsum has spread to the world; of course, our country is no exception. This dish has appeared quite often in the Chinese food streets in Ho Chi Minh City, so how about eating Dimsum in Hanoi? Do you know the address yet?
Experience delicious dimsum in Hanoi 
It is quite easy to find places to eat Dimsum in Hanoi, but not all restaurants can satisfy diners who are followers of this dish. Offering a completely different taste, and impressive space, Golden Lake Palace restaurant belonging to Dolce by Wyndham Hanoi Golden Lake hotel is a favorite destination of many domestic and foreign diners in Hanoi capital.
Native chef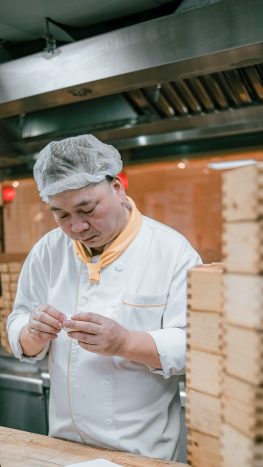 Golden Lake Palace is proud to own a team of professional chefs, invited from the native country to bring diners the most perfect experience, with a lot of experience and ingenuity in the visual arts and crafts. dimsum processing. Coming to the restaurant, you can completely find this special dish's sophistication and unique flavor.
Luxury restaurant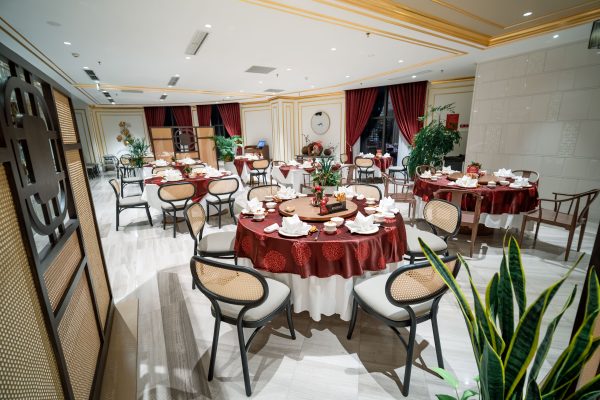 What could be more exciting than experiencing your party in a space for "royalty"? Golden Lake Palace Restaurant has a luxuriously decorated communal dining area with warm and dominant yellow tones with items like in "emperor's good meal"! Besides, the restaurant also built private banquet rooms for parties, birthdays, and conferences.
We are ready to make parties according to customers' requirements such as decoration, setting up a private menu, making a private party,… To reserve, please contact the hotline at 086 673 2386 for the advice!
In addition, the restaurant's kitchen area is designed in an open style, i.e. customers can completely observe every process of cooking, preliminary processing, … and dining.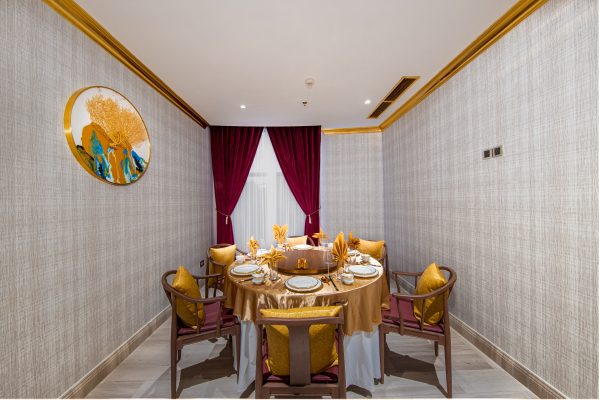 Promotion Buffet Dimsum – All You Can Eat!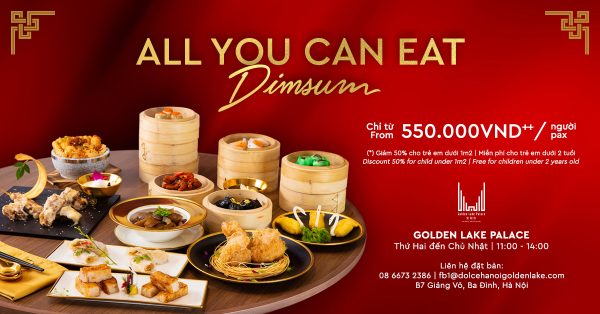 The Chinese – the cradle of Dimsum believe that colorful and flavorful dishes appearing at the same time on the table will make the meal more delicious.
Wishing to bring Vietnamese customers and tourists from all over the world to enjoy this culture, the restaurant thanks the end of the year and welcomes the new year 2023, launching the program of Dimsum Buffet with the largest number of dishes in Vietnam. dishes up to nearly 80 different types.
Unique Chinese-style dishes such as shrimp and pork dumplings, gold-plated abalone shumai, wonton, or special desserts, you can now order as much as you want with the Buffet Dimsum program. – All You Can Eat at Golden Lake Palace.
If you are looking for a place to eat Dimsum in Hanoi, don't miss Golden Lake Palace restaurant!
Detailed information about special promotion
ALL YOU CAN EAT – BUFFET DIMSUM
Time: 10:00am – 14:00pm (lunch) | Monday to Sunday.
Price: 550.000++VND/adult | Discount 50% for child under 1m2 and Free for child under 2 years old. 
Menu TẠI ĐÂY
Book now at 086 673 2386.