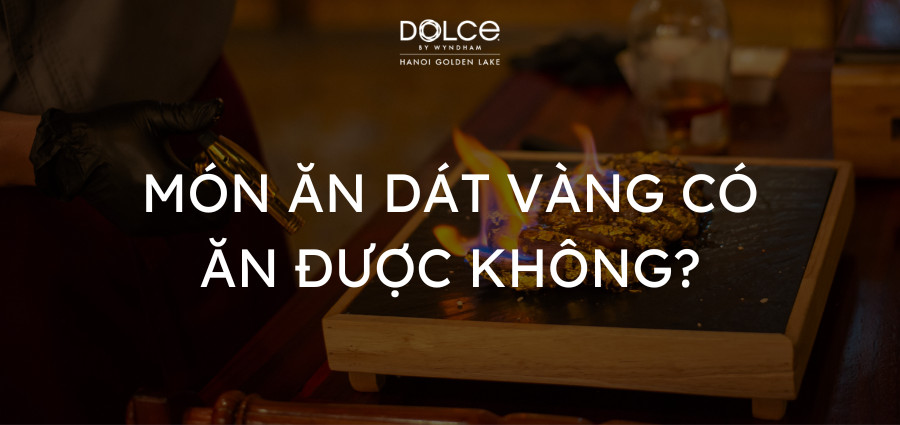 IS THE GOLDEN FOOD EAT? BENEFITS OR DRAWBACKS
Gold-plated dishes are foods that are both old but also new and luxurious, so have you ever tried them? Nowadays, the trend of inlaid dishes is gradually coming back and is being responded enthusiastically by many people!
Symbol of luxury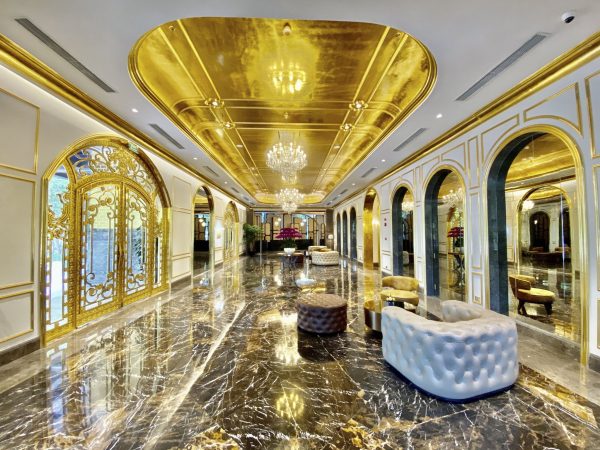 Not only appearing in the decoration of special architectural works, furniture, or cars, now showing the luxury level, people also use gold-plated dishes. In recent years, the upper class has had a trend to enjoy restaurants with luxurious gold-plated dishes, as a way to assert themselves and satisfy their curiosity.
Common gold-plated dishes such as Gold-plated beef, gold-plated foie gras, gold-plated Caviar, or simply familiar ice cream sticks. Appearing in Vietnam, restaurants serving gold-plated food are not too common but also cause excitement and curiosity among diners.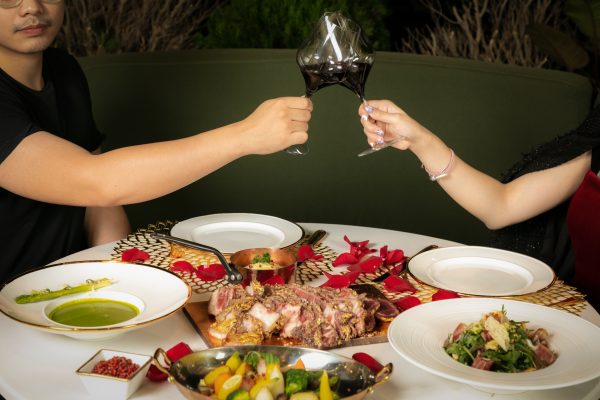 In general, gold-plated dishes bring luxury experience for valued customers and premium culinary. 
Gold is harmful?
Associate Professor – Dr. Nguyen Duy Thinh, affiliated with the Institute of Food and Technology of Hanoi University of Science and Technology, informed that: Gold-plated dishes or drinks decorated with gold-plated pieces are luxurious pleasures of the world. the wealthy elite; When used in food, gold inlaid pieces are completely harmless to users.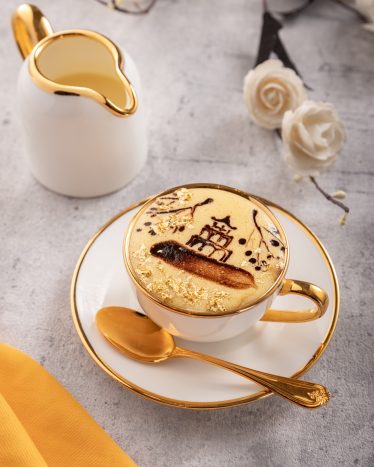 Several experts say that gold-plated dishes use very thin slices of gold, mechanically will not cause harm, and will not affect the body as well as human internal organs. Besides, gold and silver have very good bactericidal properties, so in some cases, gold-plated dishes are also good for health.
F29 Golden Beef Restaurant
Introduction
Appearing in Vietnam in general and Hanoi in particular, F29 Golden Beef restaurant has created a buzz in the culinary world. Because this is the first restaurant specializing in serving world-famous gold-plated dishes in Hanoi.
The restaurant is located on the 1st floor of Dolce by Wyndham Hanoi Golden Lake hotel – a model hotel "inlaid with gold from the inside out". The space is luxuriously decorated with a banquet table.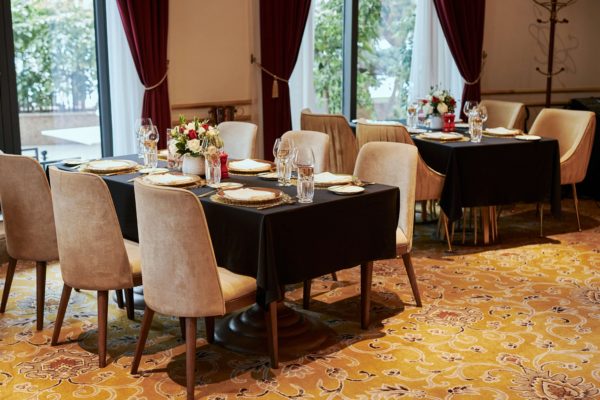 Food 
Famous for its main dishes of golden-plated beef, you can experience the taste of carefully selected and imported premium beef.
Please refer menu TẠI ĐÂY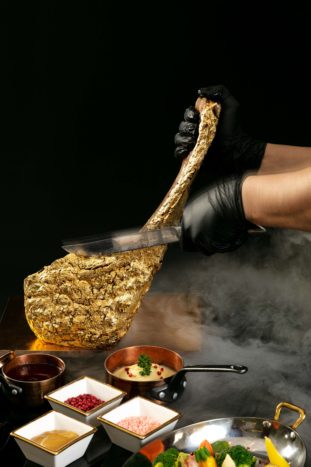 The famous gilded beef dish is completely imported from Wagyu Tomahawk beef to the famous Ribeye beef tenderloin. Each piece of beef is carefully selected and skillfully processed under the talented hands of a skilled chef, creating a dish that makes the brand of F29 Golden Beef Restaurant! Gold-plated beef will be served at the table, diners just need to sit on the spot and the chefs will push the tray and cut the meat on the spot to bring a unique, high-class experience to the diners!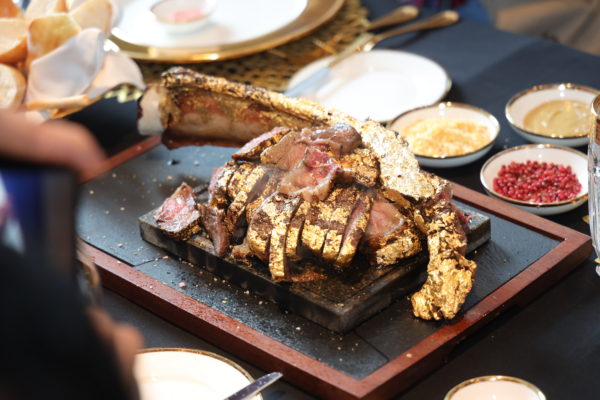 Mr. Tuan, a diner of F29 Golden Beef shared: "Minh has experienced gold-plated dishes during a trip to Dubai for a long time, but never had the opportunity to try it in Vietnam. Listen to my friend introduces the restaurant I passed right away. The food is very attractive and suitable for my taste. The staff is also very attentive to arrange and adjust everything for you to be most convenient. For me, this is an unforgettable experience, and I will invite many friends to dine at the restaurant!"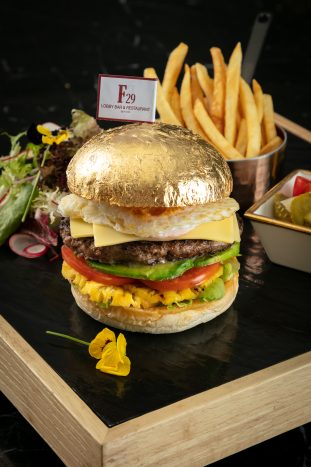 Not only is the typical gold-plated dish of beef, but the restaurant also has a number of other dishes such as the Gold-plated Burger, the exclusively invented gold-plated dessert that makes up the color of the F20 Golden Beef restaurant. mixed with any other restaurant!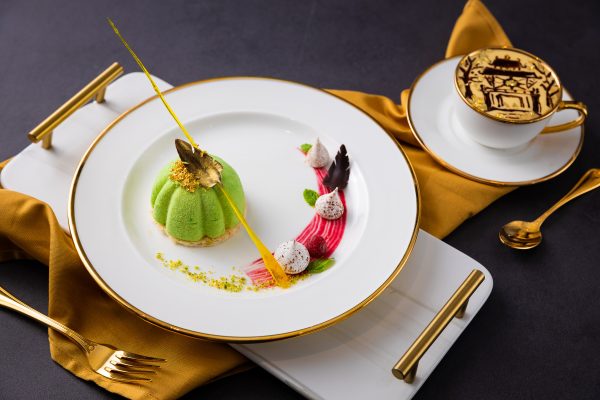 Besides, in addition to signature gold-plated dishes, you can enjoy other European dishes in the A La Carte menu full of flavors and drinks such as wine, cocktails, mocktails, or soft drinks.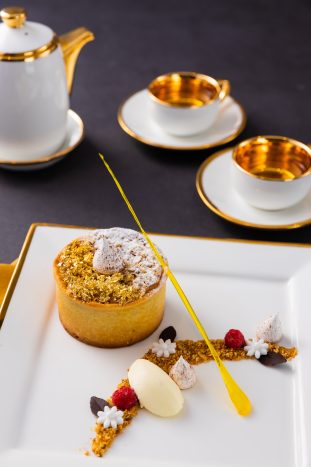 On weekday afternoons, the restaurant will serve a high-class afternoon tea set from the UK and delicious pastries with Dolce by Wyndham Hanoi Golden Lake's own signature!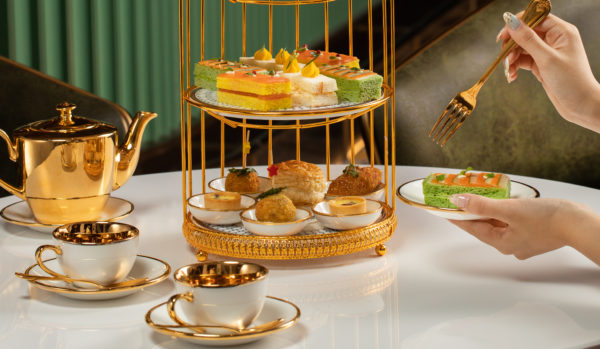 Refer Menu A La Carte TẠI ĐÂY
This is a really suitable and perfect space to date a couple or organizes private parties that are set up according to all your requirements. From restaurant-style to world-famous gilded dishes, now at your fingertips! If you are looking for a place that serves guaranteed, high-quality gold-plated food, don't miss out on F29 Golden Beef Restaurant!