Top 5+ Most Favorite Buffet Restaurant in Hanoi
First, we can't help but mention the Hanoi buffet restaurant with the feature of a hot pot conveyor belt and then many restaurants with many other buffet forms that are also popular.
1. Kichi Kichi – Hanoi's hotpot buffet restaurant
Location:
Kichi Kichi Ba Trieu Vincom Center – 191 Ba Trieu, Le Dai Hanh, Hoan Kiem district, Hanoi
Kichi Kichi Vincom Mega Mall Royal City – 72 Nguyen Trai, Thuong Dinh, Thanh Xuan district, Hanoi 
Time: 10:00am – 10:00pm
Price: 150.000 – 250.000 VND/pax.
Kichi Kichi is a brand of a famous conveyor belt hot pot buffet restaurant chain in Hanoi. The restaurant space and service style based on the idea of ​​​​Japanese culture are always thoughtful, dedicated, and very modern. It is this that has made diners love when coming to the Hanoi buffet restaurant chain Kichi Kichi.
This Hanoi buffet restaurant serves a menu with more than 100 fresh hot pot dishes combined with Kichi Kichi's signature delicious hot pot sauce. Therefore, for those who love Hanoi buffet hot pot, you should not miss this great option.
2. Majesty All-day Dining Restaurant – Premium Lunch Buffet
Locaton: Level 3, Dolce by Wyndham Hanoi Golden Lake, B7 Giang Vo, Ba Dinh district, Hanoi.
Time: 11:30am – 14pm | Monday to Friday
 Price: 499.000 VNĐ/adult | 250.000 VNĐ/ child under 1m2
Weekend Buffet – 18:30pm – 21:30pm | Friday – Sunday. 
Price: 890.000 VNĐ/adult, and 445.000 VNĐ/child under 1m2.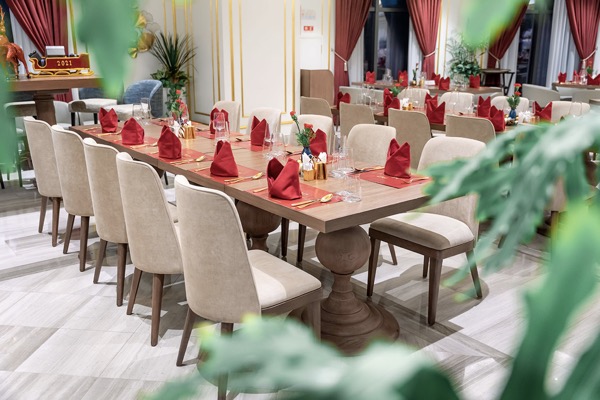 If you are looking for a top-notch buffet lunch restaurant of 5-star hotel standards in Hanoi, the first address is Dolce by Wyndham Hanoi Golden Lake. The lunch buffet menu is diverse and attractive with a hearty and creative decoration for delicious Asian to European dishes.
All dishes at Majesty All-day Dining Restaurant are selected from the most delicious ingredients. From seafood such as scallops, scallops, oysters, and octopus, barbeque, and drinks with grilled Australian beef, lamb thighs stewed in wine, unique sushi, and sashimi dishes. Along with many unique desserts will help you and your family and friends have a memorable party.
Contact to book a table: 086 673 2386
3. King BBQ
Location:
Level B2, King BBQ Vincom Mega Mall Royal City, 72A Nguyen Trai, Thuong Dinh, Thanh Xuan district, Hanoi
Level B1, King BBQ Vincom Mega Mall Times City, 458 Minh Khai, Vinh Tuy, Hai Ba Trung district, Hanoi
Time: 10:00am – 22:00pm
Price: 200.000 – 400.000 VND/pax. 
King BBQ is a buffet restaurant in Hanoi with a Korean style grill and hot pot. All the restaurant's beef and pork ingredients are completely imported, so the meat is very nutritious and tender.
Coming to the delicious Hanoi King BBQ buffet, you will be able to enjoy the menu served at the table with over 200 dishes from fresh ingredients, prepared according to an exclusive marinade recipe. Not only the restaurant owns an economical space with a modern smoke exhaust system. This also helps you increase your appetite when eating at Hanoi King BBQ buffet restaurant.
4. Dao Hua Hotpot 
Location: Level 1. Chelsea Park Building, 116 Trung Kinh, Cau Giay district, Hanoi. 
Time: 10:00am – 22:00pm
Price: 200.000 – 400.000 VND/pax
The most special feature of the Dao Hua buffet is that the restaurant serves a full range of dishes from high-class seafood hotpot, and beef to delicious steamed dishes such as Char Siu dumplings, dumplings… All dishes here are beautifully displayed with unique flavors.
Buffet Dao Hua Hotpot is arranged according to Kaiten conveyor belts, a feature of Japanese culinary culture. The conveyor belt transports more than 70 hot pot dishes to each location.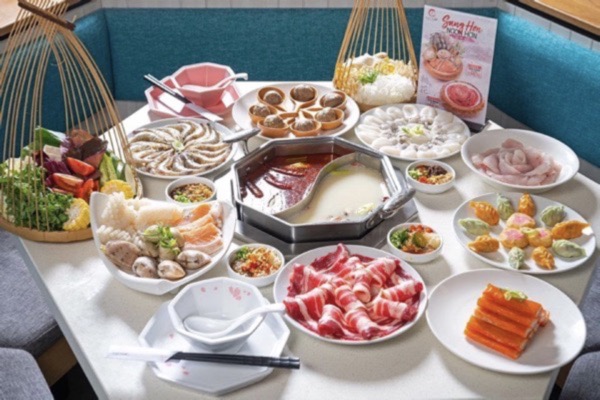 5. Vegetarian Buffet  Huong Thien 
Location: 261 Xa Dan, Dong Da district, Hanoi
Time: 11:00am – 22:00pm
Price: 100.000 – 150.000 VND/pax.
The place to eat vegetarian buffet in Hanoi at Huong Thien restaurant is a place that attracts many Buddhists to enjoy. All vegetarian dishes here are made from clean and quality vegetable ingredients.
Huong Thien vegetarian Hanoi buffet restaurant has a large, elegant, and very peaceful space. Here, the restaurant serves a lot of traditional Vietnamese vegetarian dishes prepared in Western European style, creating a novelty for customers. If you are a Buddhist believer or a lover of vegetarian cuisine, come to Huong Thien to enjoy frugal and delicious vegetarian dishes.
6. Yukssam BBQ Buffet
Location: 3 O Cho Dua, Dong Da district, Hanoi 
Time: 11:00am – 14:00pm and 17:30pm – 22:30pm
Price: 200.000 – 400.000 VND/pax.
Referring to delicious and cheap buffet restaurants in Hanoi, it is indispensable for Yukssam BBQ brand with 2 restaurant locations in central locations of the capital. Yukssam owns a spacious space, the same design is traditional Korean style and is also extremely modern when combined with a curved tile roof, large glass windows, and wooden sliding doors…
The interior of the Hanoi buffet restaurant is arranged for each dining table with a convenient spoon and chopstick holder. The modern exhaust system also helps to increase the comfort of diners. Besides, in the common area, this Hanoi buffet restaurant also decorates private rooms with a capacity of 6-10 guests. Not only that, but the quality of delicious grilled dishes here is also a "powerful weapon" to attract diners to this restaurant.
7. Taca Taca
Location: 128 Nguyen Khoai, Hai Ba Trung district, Hanoi
Time: 10:00am – 22:00pm
Price: 169.000 – 229.000 VND/pax.
If you are looking for a cheap buffet restaurant in Hanoi with affordable prices and quality dishes, Taca Taca will be the "ideal" destination. Although the space is not too large, the restaurant scores point with fast service, delicious food, and extremely attractive. In addition, Taca Taca also regularly has promotions "go 4, pay 3" to help you save costs effectively.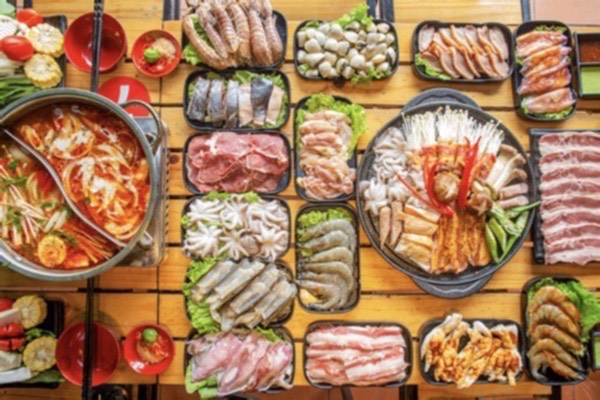 8. Bao Ky Dimsum
Location: 35 Le Van Thiem, Thanh Xan district, Hanoi 
Time: 10:00am – 22:00pm
Price: 50.000 – 200.000 VND/pax.
Referring to famous Hanoi dim sum buffet restaurants, it is difficult to ignore Bao Ky Dimsum. The restaurant space with a luxurious and cozy Chinese-style design is located on crowded Le Van Thiem street, easy to find.
Bao Ky buffet restaurant serves dim sum dishes presented in steaming pots that are both hot and beautiful. The team of chefs skillfully prepares dishes with bold Chinese flavors but very suitable for Vietnamese taste. 26 scrumptious dim sum dishes such as salmon roe dumplings, shallot shrimp dumplings, chicken shumai… and many attractive side dishes such as shrimp rolls, Yolk egg dumplings, fried wontons, Cao Linh biscuits… But with less than 200,000 VND, you can freely pat your hungry stomach.
Hopefully, with the suggestions of the Hanoi buffet addresses above, you can choose a culinary address for yourself to enjoy. Let's plan relaxation with friends and enjoy buffet dishes from the restaurants above.