Top 5+ Quality Lunch Buffet Restaurant in Hanoi (2023)
1. Majesty All-day Dining
Location: Level 3, Dolce by Wyndham Hanoi Golden Lake, B7 Giang Vo, Ba Dinh district, Hanoi.
Time: 11:30am – 14:00pm | Monday to Sunday
Price: 499.000++ VNĐ/adult; 250.000++ VNĐ/child under 1m2. 
If you are looking for a top-notch buffet lunch restaurant of 5-star hotel standards in Hanoi, the first address is Dolce by Wyndham Hanoi Golden Lake. The lunch buffet menu is diverse and attractive with a hearty and creative decoration for delicious Asian to European dishes.
All dishes at Majesty All-day Dining Restaurant are selected from the most delicious ingredients. From seafood such as scallops, scallops, oysters, and octopus, barbeque, and drinks with grilled Australian beef, lamb thighs stewed in wine, unique sushi, and sashimi dishes. Along with many unique desserts will definitely help you and your family and friends have a memorable party.
Contact to book a table: 086 673 2386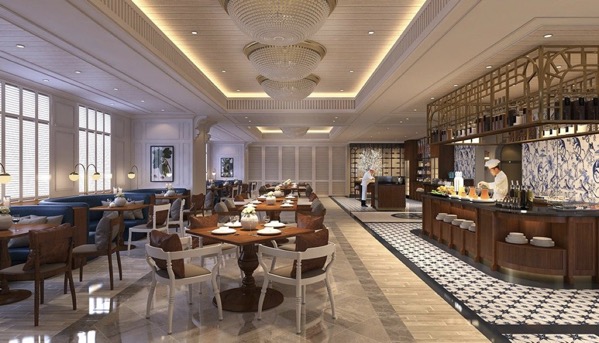 2. Manwah Taiwanese Hotpot
Location: 1 Thai Ha, Dong Da district, Hanoi
Time: 11:00am – 22:00pm
Price: 419.000VND/pax
Manwa is a buffet lunch address in Hanoi that you cannot ignore if you are a hot pot addict. Manwah restaurant system with luxurious space, bold traditional Taiwanese culture in the heart of Hanoi.
Manwah lunch buffet menu features Taiwanese hot pot flavor with 5 types of hotpot including mushroom hot pot, tomato hot pot, Taipei hot pot, Mala hot pot, and Thai hot pot with spicy flavor, strong aroma from cardamom, nuts and seeds. cilantro, ginseng root, red apple, cloves, goji berries… form a characteristic and nutritious hot pot flavor. Diverse hot pot dishes including beef, lamb, pork, chicken, seafood, hot pot drop balls are very diverse, delicious and unique.
This is the favorite lunch buffet address of many diners because of not only the beautiful space, delicious food but also the dedicated professional service style. Coming to Manwah restaurant, you will have a relaxing time with friends and relatives while enjoying the famous delicious Taiwanese hot pot.
3. Get to Give
Location; 67 Pho Duc Chinh, Ba Dinh district, Hanoi
Time: 9:00am – 22:00pm
Price: 159.000VND/pax
Get to Give is one of the cheap lunch buffet restaurants. Get to Give is located on Pho Duc Chinh street, and owns a lovely restaurant space with many check-in corners for you.
The menu at Get to Give has a variety of dishes from European to Korean, all dishes are decorated very meticulously. Pizza, beef steak, pasta are dishes you should not miss. In addition, other dishes such as grilled chicken thighs, fried chicken with cheese, fish, and chips are also very good.
A cheap lunch buffet at Get to Give full of appetizers, main dishes, desserts with a fairly soft price from only 159k/serve, 29k/serve unlimited drinks. This promises to be an ideal dating place for many couples!
4. Lunch Buffet Tonchan
109 Trieu Viet Vuong, Hai Ba Trung, Hanoi
76 Bui Thi Xuan, Hanoi
120 Phan Ke Binh, Ba Dinh district, Hanoi
Time: 10:30am – 14:00pm
Price: 250.000 – 350.000 VND/pax.
Normally, the cost of a Japanese meal is high, but Tonchan Buffet Lunch Restaurant helps you have a delicious lunch at a reasonable cost. From only 329,000 VND / serving, you can enjoy delicious Japanese dishes.
The Tonchan Lunch Buffet restaurant system is located in the central areas and is also very easy to find. The plus point is that the modern space respects privacy, which will be the place to hold a great lunch buffet with family and friends.
Delicious lunch buffet menu with many typical Japanese dishes such as: herring sashimi, sushi, red scallop sashimi. Attractive grilled dishes include seafood, chicken, beef rolls with cheese… And save your belly for eel rice, udon, and Japanese-flavored hot pot for a fuller meal.
The dishes at Tonchan restaurant are always guaranteed from the selection of fresh ingredients, spices to the rigorous processing to give diners delicious dishes. In addition, professional service style is also a big plus at Tonchan.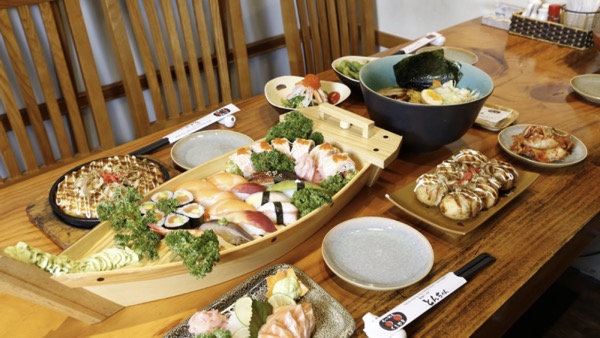 5. Bay Seafood
28 Thanh Nien, Tay Ho district, Hanoi
167 Hoang Ngan, Cau Giay district, Hanoi
14 Tong Dan, Hoan Kiem district, Hanoi 
Time: 11:00am – 14:30pm 
Price: 338.000 – 386.000VND/pax
Bay Seafood Buffet is a lunch buffet restaurant for seafood lovers. Bay Buffet restaurant system owns a luxurious and spacious space design that can accommodate up to hundreds of customers.
The lunch buffet menu at Bay Seafood is extremely rich with many appetizers and desserts from Asia to Europe. Dozens of delicious seafood dishes such as shrimp, crab, surface, crab, snail, clam, octopus … are processed in many different forms: steamed, roasted with salt, baked with cheese, grilled with onion fat and cooked with porridge.
In addition to ready-to-eat dishes, the lunch buffet restaurant also serves hot pot dishes for seafood dips. In addition, you can also enjoy some Japanese seafood dishes such as sashimi, maki, Japanese pancakes. It is impossible not to mention that the typical Vietnamese dishes with traditional flavors such as: banh cuon, pho, tea, etc. The lunch buffet at Bay has been praised by customers for its quality and value for money, so you should not miss this restaurant.
6. Buffet Sen Ho Tay Hanoi
Location: 614 Lac Long Quan, Tay Ho district, Hanoi
Time: 10:30am – 13:30pm
Price: 290.000 – 355.000VND/pax
Sen Ho Tay restaurant is considered one of the most famous lunch buffet restaurants in Hanoi. There is an extremely spacious and luxurious space divided into different regional cuisines such as international cuisine, Hanoi and Star Palace and the seafood market area. Especially, Sen Ho Tay delicious lunch buffet restaurant owns both outdoor and indoor space, so it is especially suitable for organizing parties for large groups.
Sen Ho Tay buffet lunch menu is like a miniature culinary world in Hanoi with over 200 delicious dishes from the cuisine of 3 regions of Vietnam. Besides, there are also European – Asian dishes, grilled dishes, Japanese dishes and seafood. Some delicious dishes suggested for you to enjoy at West Lake Sen such as: Australian rock lobster, Tasmanian smoked salmon, Russian-style barbecue, grilled lamb chops with fragrant leaves, Chinese roasted duck…
In particular, the restaurant also regularly updates new dishes on the menu. Each dish here reaches the quintessence and ingenuity in culinary art.
Hopefully, the content of the above article has helped you have more choices of buffet lunch restaurants in Hanoi. Please contact to book a table and bring your friends and relatives to enjoy the delicious lunch buffet!