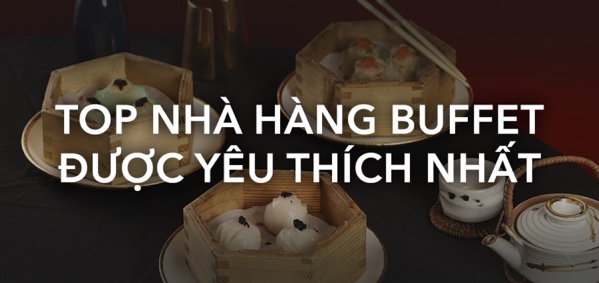 Top 5+ Recommend Buffet Dimsum Restaurant in Hanoi
Dim sum is a breakfast dish from China that refers to hearty meals. It is processed with a thin layer of dough on the outside, and a filling inside, including savory, sweet, fried, or steamed foods. The main ingredients of dim sum are only a few main ingredients such as flour, rice flour, meat, seafood, and vegetables. The famous Dim sum dishes that almost everyone knows such as dumplings, shumai, shrimp rolls, dumplings…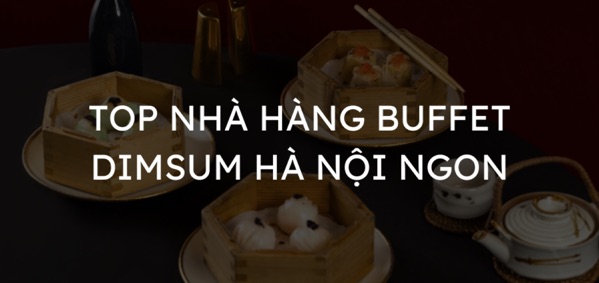 1. Tim Ho Wan – Buffet dimsum
Location: Level 36, Lotte Center, 54 Lieu Giai, Ba Dinh district, Hanoi.
Time: 11:30am – 22:00pm 
Price: 100.000 – 1.000.000VND/pax.
If you want to experience high-class dimsum buffet cuisine in Hanoi, you can't miss the buffet address at Tim Ho Wan. This is a dimsum restaurant that has received a prestigious Michelin star.
The dimsum buffet restaurant space is quite simple but has bold Chinese colors. When entering the restaurant you will see an open kitchen with images of chefs preparing and cooking delicious food. Everything is like an old restaurant full of memories.
This dimsum restaurant has a menu of 18 dimsum dishes, 3 dishes of rice, porridge, and dessert. Although the number of types of dimsum is not too many, each of these dishes is very delicate, encapsulating the secret of Chinese cuisine. The soft, spongy crust covers the rich fillings, when you bite into them, you will feel they give off an unforgettable aftertaste.
The restaurant owns 4 dishes known as the "Four Heavenly Kings": steamed egg tarts, pork dumplings, pork liver rolls, and fried carrot cakes. These are extremely typical dishes, representing Cantonese cuisine. In addition, the dimsum menu also has countless attractive dishes waiting for diners to enjoy such as shrimp dumplings, steamed shumai, and steamed chicken feet with soy sauce.
2. Golden Lake Palace –  Premium Buffet dimsum 
Location: Level 3, Dolce by Wyndham Hanoi Golden Lake, B7 Giang Vo, Ba Dinh district, Hanoi
Time: 11:30am – 14:00pm | Monday – Sunday 
Price: 550.000VND/adult
If you are looking for a top-notch dim sum buffet restaurant that meets the standards of a 5-star hotel in Hanoi, come to Dolce by Wyndham Hanoi Golden Lake. Diverse and attractive dim sum buffet menu with hearty and creative decorations for extremely delicious dim sum dishes.
The ingredients on the menu at Majesty All-day Dining are selected from fresh ingredients. The unique desserts will definitely help you and your family and friends have a wonderful party.
Contact to book a table: 086 673 2386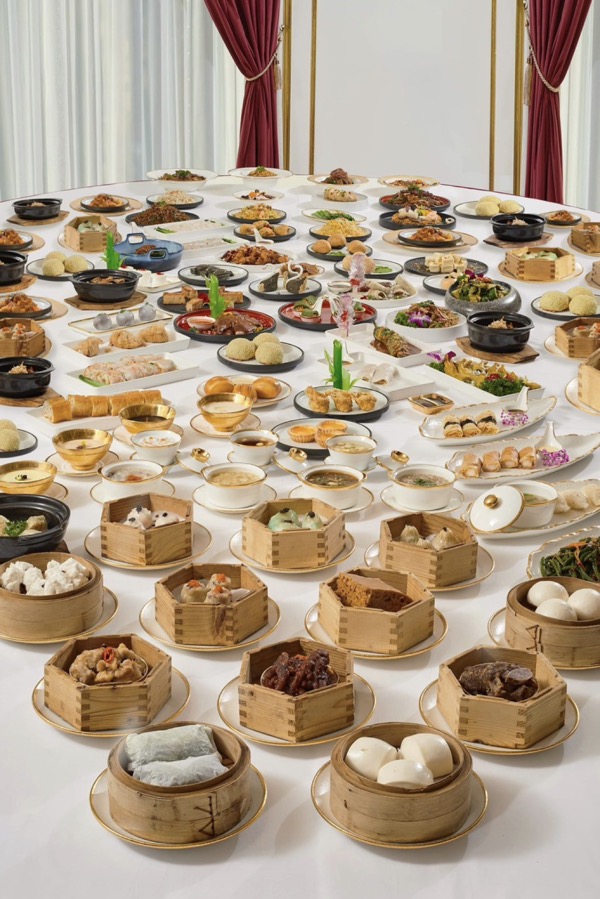 3. Fu Rong Hua
Location: 9 Dinh Tien Hoang, Hang Trong, Hoan Kiem district, Hanoi
Time: 10:00am – 23:00pm
Time: 45.000 – 280.000VND/pax
Delicious Dimsum Hanoi Fu Rong Hua is located in the middle of the capital at 9 Dinh Tien Hoang Street, Hoan Kiem District. Entering the restaurant, you will feel like a restaurant in Chaozhou region. From the whole space, to the decoration, it is extremely delicate with the main wood tone.
The dimsum buffet menu here is very rich from steamed eggs, dumplings, wontons, char siu, dumplings, kimsa dumplings… Besides, this restaurant also serves spicy Sichuan dishes such as spicy duck tongue. , spicy duck neck, roasted pork with char siu with Sichuan sauce…
4. Feng Huang
Location: 21 Le Duc Tho, My Dinh, Nam Tu Liem district, Hanoi
Time: 11:00am – 13:00pm and 18:00pm – 21:00pm
Price: 150.000 – 300.000 VND/pax
The first address in the list of dimsum buffet spots in Hanoi is Feng Huang restaurant. This is one of the most famous Chinese restaurants in Hanoi.
With only a dimsum buffet price of less than 300,000 VND / serving, you will be able to enjoy over 50 attractive dishes, especially in which there are nearly 20 different types of dimsum. Dimsum dishes usually appear in 3 main ways: steaming, frying and stir-frying. The crust of the cake is soft, embracing the delicious filling, making you feel like you are lost in the culinary world.
In addition, you can also enjoy vegetarian dumplings, cool shrimp dumplings, fresh shrimp capers… Besides the above dimsum dishes, you can also enjoy Sichuan spicy hotpot, beef hotpot with pepper or many other dishes. eat differently.
Spacious with a capacity of over 180 guests, Feng Huang will be the ideal place for couples, groups of friends and families to gather or organize parties. Come to Feng Huang to experience the exquisite space, enjoy delicious dimsum dishes right away.
5. Bamboo Dimsum
Location: Level 3 Aeon Mall Long Bien, 27 Co Linh, Long Bien district, Hanoi
Time: 10:00am – 22:00pm
Price: 20.000 – 100.000 VND/pax
If you are looking for a place to eat cheap dimsum buffet in Hanoi, Bamboo Dimsum is an attractive address with a price of only 20,000 – 100,000 VND / serving. Located right at Aeon Mall Long Bien, Bamboo is the ideal suggestion to enjoy lunch after walking around the downtown area.
The dimsum menu at the restaurant offers a variety of attractive, hot and attractive dimsum such as wonton, dumpling, shumai, dumplings… The soft, delicious crust and delicious filling are irresistible.
The highlight at Bamboo Dimsum buffet is shrimp dumplings. The crust is transparent, revealing the attractive red shrimp filling. In addition, diners should not ignore the roasted duck noodles, scallop dumplings … equally attractive.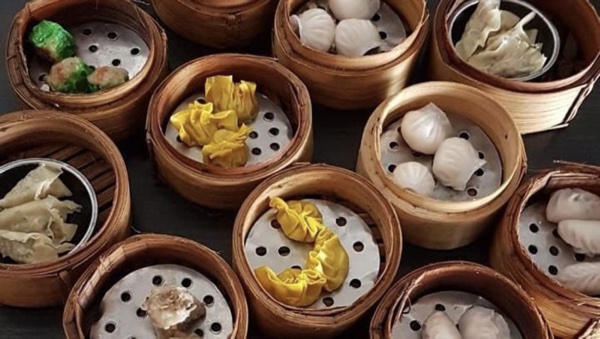 6. Thien Di Restaurant 
Location: 26 Ly Thuong Kiet, Hang Bai, Hoan Kiem district, Hanoi
Time: 6:30am – 12pm
Price  120.000 – 1.000.000VND/pax
Thien Di Quan is one of the delicious dimsum restaurants in Hanoi specializing in buffet service. The space is open and spacious.
The dimsum menu here displays a variety of dimsum dishes from frugal steamed dishes such as Shanghai dumplings, kimsa dumplings, shumai, fresh shrimp dumplings, custard buns… to deep-fried, greasy dishes. For example, fried rice rolls with soy sauce, fried fresh shrimp dumplings, fried fresh milk dumplings…
There are 6 places to enjoy a delicious cheap Hanoi dimsum buffet that we would like to recommend to you. Hopefully, this article has helped you pocket some impressive and reasonably priced dimsum buffet places in Hanoi.