The Golden Getaway Package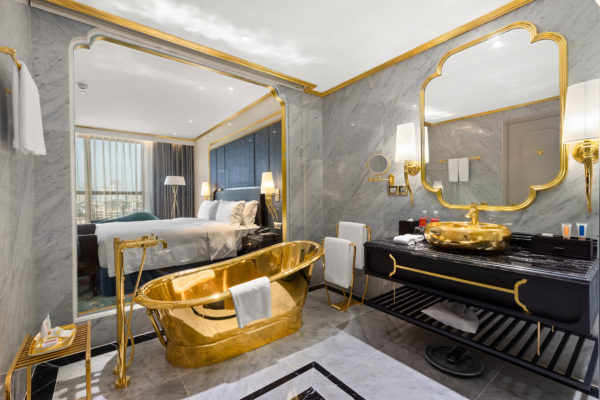 Leave the hustle behind, let's explore the world of luxurious life at Dolce Hanoi Golden Lake. Boasting a romantic panoramic view overlooking Giang Vo Lake, the hotel presents to you 𝐓𝐡𝐞 𝐆𝐨𝐥𝐝𝐞𝐧 𝐆𝐞𝐭𝐚𝐰𝐚𝐲 package offering an extraordinary experience right in the heart of Hanoi. With 𝐕𝐍𝐃 𝟒,𝟒𝟎𝟎,𝟎𝟎𝟎++ /night , you can indulge in:
• 01 luxurious night stay at the Classic Room including breakfast for 2 people.
• Choice of Set Menu for Lunch or Dinner at Golden Lake Palace for 2 people.
• Complimentary upgrade to Deluxe Room (subject to room availability).
• Free access to the 24k infinity swimming pool.
• Exclusive tour to explore the first gold-plated hotel in the world.
Terms and Conditions:
• Free of charge dine & stay for up to 2 children under 6 years old
• Applied for both weekdays & weekend
• Available till 31 Oct 2020
For reservations or more details, please contact
𝐃𝐨𝐥𝐜𝐞 𝐛𝐲 𝐖𝐲𝐧𝐝𝐡𝐚𝐦 𝐇𝐚𝐧𝐨𝐢 𝐆𝐨𝐥𝐝𝐞𝐧 𝐋𝐚𝐤𝐞
Hotline: (+84) 243 365 9999
Email: reservation@dolcehanoigoldenlake.com