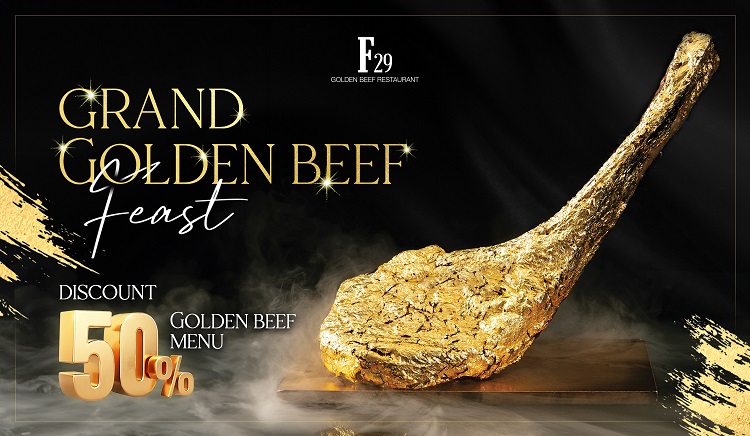 𝐆𝐑𝐀𝐍𝐃 𝐆𝐎𝐋𝐃𝐄𝐍 𝐁𝐄𝐄𝐅 𝐅𝐄𝐀𝐒𝐓
Enjoy the Golden Beef Menu from a renowned British presence in Hanoi. in Hanoi. Exclusive offer only available this November:
𝐃𝐢𝐬𝐜𝐨𝐮𝐧𝐭 𝟓𝟎% 𝐆𝐨𝐥𝐝𝐞𝐧 𝐁𝐞𝐞𝐟 𝐌𝐞𝐧𝐮 (𝟐𝟎/𝟏𝟏 – 𝟑𝟎/𝟏𝟏)
This special Golden Beef Menu combines premium beef slices with a premium 24K gold layer to highlight the LUXURY of the dish and wish the selected customers success and PROSPERITY.
Especially here, you are going to see the restaurant's most authentic "Flambé show" and take lovely pictures of priceless moments. In Restaurant F29, you'll experience:
An unparalleled taste found nowhere else.
Fresh vegetables along with royal-class menu.
Premium, renowned beef of the highest quality in flavor, aftertaste, and nutritional assurance.
Spacious ambiance perfect for family gatherings and friends.
Luxurious and contemporary interior design.
Diverse menu featuring an array of exquisite wines.
Check out the menu here:
https://bit.ly/GoldenBeefF29
A top-notch culinary experience, exclusive for guests, awaits at Restaurant F29. Please pre-book as the restaurant serves limited daily quantities