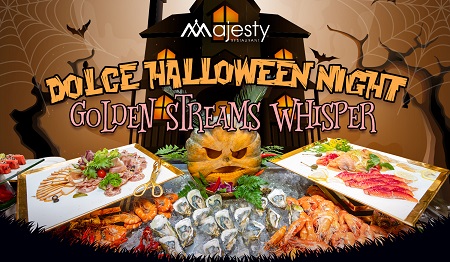 THE SPOOKY PARTY AT DOLCE 𝑯𝑨𝑳𝑳𝑶𝑾𝑬𝑬𝑵 𝑵𝑰𝑮𝑯𝑻 – GOLDEN STREAMS WHISPER👻  
THE SPOOKY PARTY AT DOLCE 𝑯𝑨𝑳𝑳𝑶𝑾𝑬𝑬𝑵 𝑵𝑰𝑮𝑯𝑻 – GOLDEN STREAMS WHISPER👻  
Halloween is a late-fall festival that originated in Western Catholic countries. On Halloween night, people will traditionally attend masquerade festivals, where they will decorate by hollowing out pumpkins into lanterns shaped like devil faces with lights inside, human skeletons, skulls, and other games. Apples float in a large basin of water, and participants must use their teeth to pick up an apple, tell fortunes, tell ghost stories, or watch Halloween horror movies, similar to apple bobbing. Children will dress up and go door to door asking for "Treat or Trick" candy.
This coming Saturday, October 28, 2023, Majesty Restaurant – Dolce by Wyndham Hanoi Golden Lake Hotel will host a spooky dinner party with traditional "creepy" dishes of the approaching Halloween festival ready to welcome you. You'll partake in signature Halloween-themed cocktails or mocktails before the party.
Dolce by Wyndham Hanoi Golden Lake Hotel has offers for guests attending the Halloween party at the restaurant in the excitement of an upcoming "scary" Halloween party, including:
Dinner buffet that is "scary" is available for just VND 890,000++/ pax
Dinner buffet featuring a variety of fresh seafood counters, grilled meat, fresh salad bars, cheese and spooky dessert.
Unlimited fresh juices and soft drinks
Get a 24k golden oven-baked lobster per customers
Get a free glass of wine
24k golden Tomahawk beef carved at tables
24k Golden Iberico Parma ham
Discount 50% for children under 1,2m
Free for children under 02 years old.
Dolce by Wyndham Hanoi Golden Lake is pleased to assist you with your Halloween party thanks to its many years of experience and excellent customer service.